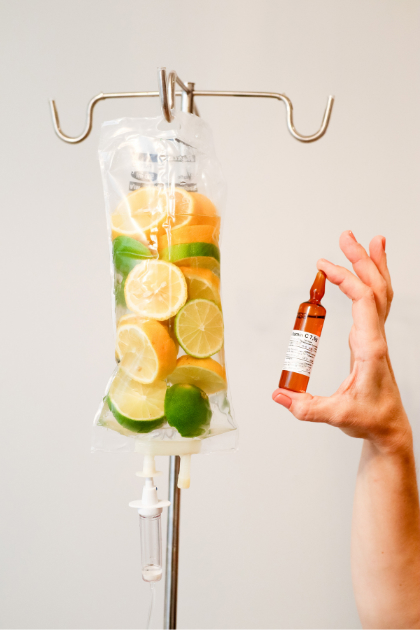 IV vitamin therapy, also known as intravenous vitamin therapy or IV drip therapy, involves administering vitamins, minerals, and other nutrients directly into the bloodstream through a vein. This is in contrast to oral intake, which involves taking vitamins and nutrients by mouth in the form of pills, capsules, or liquids.
IV vitamin therapy is often used to address nutrient deficiencies or to provide a quick boost of nutrients for specific purposes, such as athletic performance or recovery from illness. It can also be used to help improve the appearance of the skin, boost energy levels, and support the immune system.
Benefits of IV Vitamin Therapy
Higher bioavailability: When vitamins and nutrients are administered intravenously, they bypass the digestive system and are immediately absorbed into the bloodstream. This means that a higher percentage of the nutrients are available for use by the body, as opposed to being lost during digestion.
Faster absorption: IV vitamin therapy allows the nutrients to be delivered directly to the cells, which means that they can be used more quickly by the body. This can be particularly beneficial for people who are experiencing symptoms of nutrient deficiency or who need a quick boost of nutrients for a specific purpose.
Customized treatment: IV vitamin therapy can be tailored to the individual's specific needs and goals. For example, a therapist can customize the IV drip to include specific vitamins and minerals based on the person's health concerns or objectives.
Convenience: IV vitamin therapy can be administered quickly and easily in a healthcare setting, which can be more convenient for some people than taking oral supplements.
Who Can Benefit from IV Vitamin Therapy?
IV vitamin therapy may be appropriate for people who are experiencing symptoms of nutrient deficiency, such as fatigue, muscle weakness, or mood changes. It may also be helpful for people who are seeking to boost their energy levels, improve the appearance of their skin, or support their immune system.
IV vitamin therapy may not be suitable for everyone. It is always important to consult with a healthcare professional before starting any new treatment, including IV vitamin therapy, to ensure that it is appropriate and safe for you.
Ready to learn more about IV vitamin therapy and how it could benefit you? Contact us today to schedule a consultation with one of our trained professionals. Boost Your Health and Energy Levels with Our IV Vitamin Therapy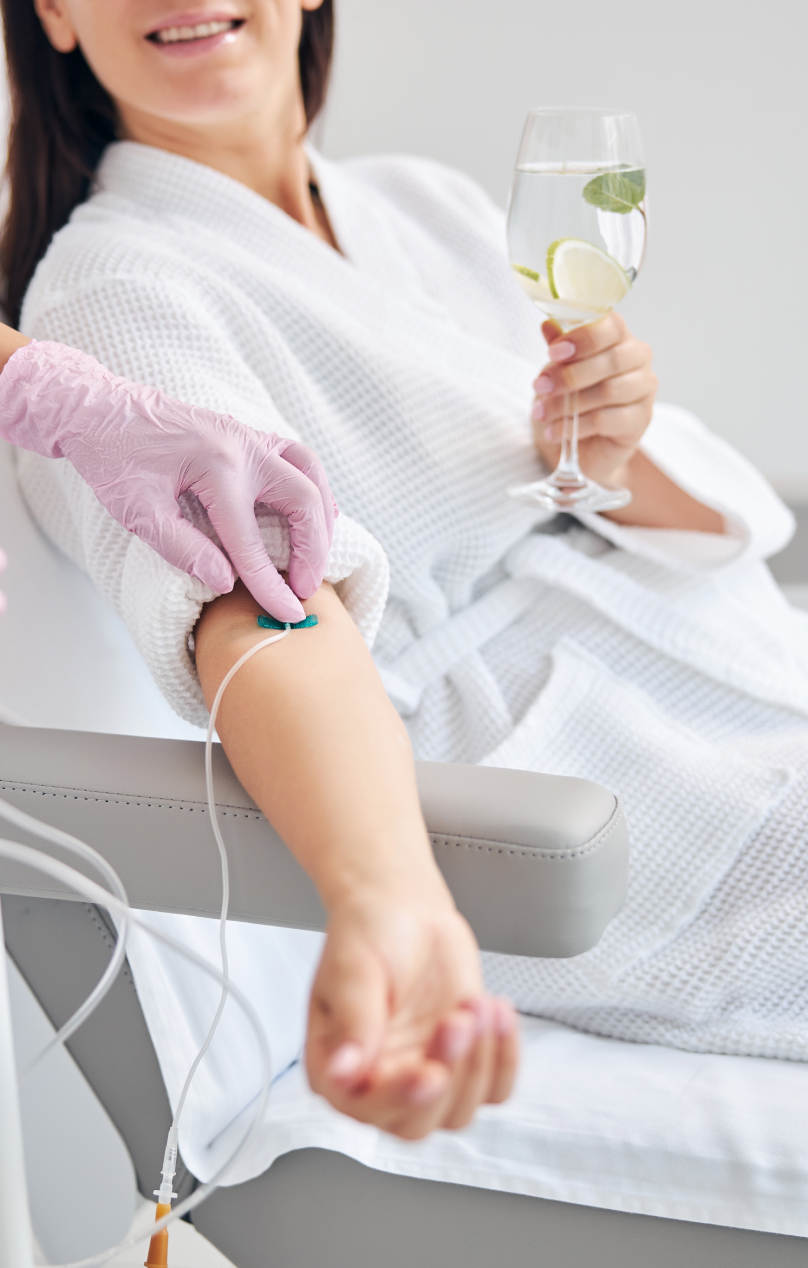 Are you feeling tired, rundown, or just not like yourself lately? It's time to give your body the nutrients it needs to perform at its best. At IV Vitamin Bar, we offer IV vitamin therapy that delivers essential vitamins, minerals, and nutrients directly into your bloodstream for maximum absorption and benefits.
Our IV vitamin cocktails are customized to meet your unique needs and goals. We offer a range of options, including:
You can also make your own cocktail choosing from individual supplements:
Anti-Aging, clear skin, healthy liver
Libido, Mood & Performance
Anti-Inflammatory Pain Reducer
While most IV therapy clinics administer their IVs to their patients in a group setting all in one room, we are hoping to set a new standard of experience as well as privacy in the IV therapy space.
We're proud to be the first full-service IV therapy clinic to offer private infusion suites where individuals can enjoy the privacy of their very own private room.
Click book online to schedule a visit and book your private infusion suite. To shop IV membership plans, 
click here
.
Visit our IV Vitamin Bar today and order your cocktail of choice to feel revitalized and energized like never before.
Cost: infusions starting from $129
Frequently Asked Questions
Vitamins are essential nutrients that our bodies need to function properly. They play a variety of roles in the body, including helping to maintain healthy skin, hair, and nails; supporting the immune system; and helping to convert food into energy.
There are 13 essential vitamins that our bodies need, including vitamin A, vitamin C, vitamin D, vitamin E, and vitamin K, as well as a group of B vitamins (thiamin, riboflavin, niacin, pantothenic acid, vitamin B6, biotin, and vitamin B12). Each vitamin has its own specific role to play in the body, and it is important to get enough of each one in order to maintain good health.
While it is possible to get most of the vitamins we need from a varied and balanced diet that includes a wide range of fruits, vegetables, whole grains, and other nutrient-dense foods, some people may be at risk of vitamin deficiencies due to certain health conditions, dietary restrictions, or other factors. In these cases, a healthcare professional may recommend vitamin supplements to help ensure that the body is getting enough of these essential nutrients.
What Our Loving Customers Says
Highly recommend Dr. Fatima. She is an awesome doctor and a great person too.
I want to give her 10 stars. She is very patient, listens, gives us time, and is very thorough. I had pain and did not want to take any medicine. She treated my pain completely without any medication.
Dr. Fatima is an excellent physician who takes the time to listen and help her patients reach their optimal health, her approach is not the band-aid solution, lets fix every illness with a pill.
Dr. Fatima is kind, thorough, a great listener, and most of all she really cares about the welfare of her patient.
Dr. Fatima is one of the best doctors I've seen. She takes care of her patients and makes the effort to keep up with their condition.
Dr. Fatima is an excellent doctor, she goes above and beyond in caring for her patients. She's a very caring, knowledgeable doctor. I feel very confident and secure in her practice and advice.
When I met Dr. Fatima at my lowest. She was a Human (true Angel). Her kind eyes blew me away. Hopefully I can get in with her as a regular patient.
Dr. Fatima is knowledgeable, caring and very helpful. She does everything she can to give her patients the best medical treatment available. I feel happy and blessed I found her.
Excellent, competent, fast response!
Dr. Fatima was thorough and careful in my visit. There are a few real doctors out there that still practice real medicine! Dr. Fatima is one of them!
I have been a patient of Dr. Fatima since Fall of 2021. I acquired Covid-19 on Easter Sunday 2022. Dr. Fatima is a "total class act". She promptly returned my call Easter Morning and immediately prescribed all medications necessary to suit my medical comorbidities to bring me to "complete...
This error message is only visible to WordPress admins
Error: There is no connected account for the user 17841406982591726.